Silo-Flow™ Air Cannon- Finally an effective solution to clogging
When your bulk materials storage or flow processes get stopped-up or clogged it can at best hold up, and at worst totally shut down operations. You need a solution you can rely on to prevent that from happening. Silo-Flow™ air cannon offers a complete solution to flow problems in any part of the production or storage process. Compact and extremely powerful, field proven to be absolutely safe and reliable, Silo-Flow™ air cannon quickly overcomes the toughest clogging. Look, for example, what happens with a 6 months Gypsum build up in our customer's silo…
See Silo-Flow™ Air Cannon in action!
Silo-Flow™ air cannon is a unique and patented high-pressure air cannon. Using compressed air of up to 3000 psi (200 bar), it creates a powerful shock wave followed by a high velocity air stream that is aimed directly into the aggregate material in the bulk storage or process vessel. The combined effect of shock wave + air stream makes Silo-Flow™ air cannon up to 50 times more powerful than current industry standard air cannons whose working pressure is only up to 100 psi (7 bar). Furthermore, Silo-Flow™ air cannon can be activated as frequently as every few seconds to provide a continuous and powerful repeat action that effectively solves even the most difficult clogging problems.
The Silo-Flow™ air cannon system includes: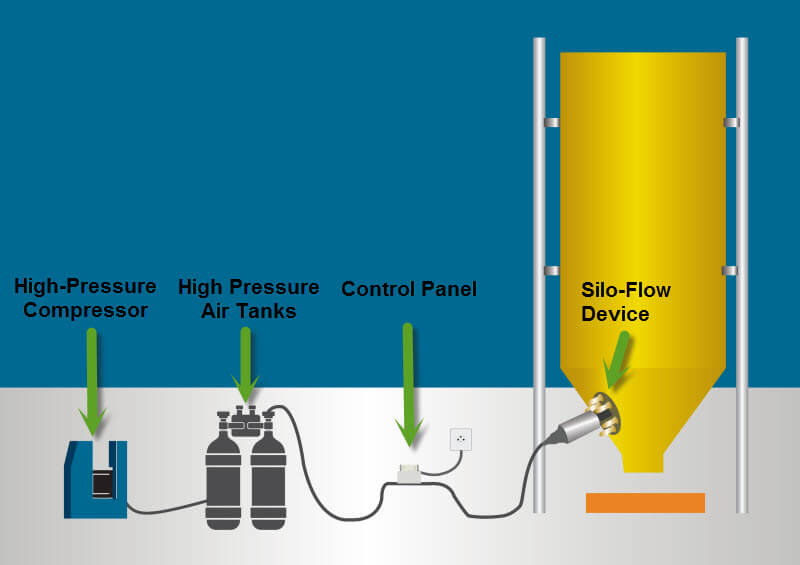 Offering operators peace of mind that material flow is continuous, the Silo-Flow™ air cannon system is also designed to enhance control with local or remote control options, readily available information on device operation, and simple modification of operating parameters for immediate response to changing production conditions. Keeping operations flowing also means a healthy bottom line with rapid return on investment. This is also a unique solution to save money (a lot of money) by shifting from Natural Gypsum to Synthetic Gypsum.
Safe, reliable and eco-friendly
Silo-Flow™ air cannon systems have been in operation under the most demanding conditions from 2001 and have proved to be extremely safe and reliable, with minimal maintenance. This unique air cannon system only uses compressed air and is totally mechanical, which makes it both energy-saving and environment friendly.